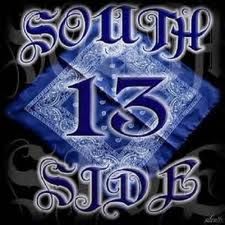 &nbsp
Sur 13 is a spanish name which it means South 13 in english. South side was created by a group of Mexicans in Mexico city, which is really danger gang in Mexico. In New York South 13 is the strongers Mexicans gang in New York. But it has a really low rate of dominator. This gang is also enemy of VL and Crips(In New York only). This gang was retired in Def Jam fights in 2004 where, Tank the leader of South Side was seen losing to 50 Cents in Club Murder. Afterlosing to him South Side was over, some of his fighters join Crow's Crew for Money and Power. Cruz was also in south 13 but he turn back in join with VL. Skull was in South side for couple of months and then he jumps to the Crips to win money and power. Skull was also a good friend of Cruz and Tank. Other fighters such as Juan was in a South 13 as a Sercurity Guard of PeeWee and Tank, but later on was forced to leave South Side afterlosing to Joe. PeeWee was a strong alley in South 13 as he was partner up with Tank and most of the times with Juan. PeeWee also turn on them by joining with the crips alongside with Crow as his new boss.
Tank was the one who bring South 13 in New York in 2002 where the challenges starts at Brooklyn. Tank first soldier was PeeWee the one who defeat Drake in Club House. Tank also teams up with him 2 times and one of them he lost. South 13 was challenge for the best gang in Def Jam Vendetta (Arena) which they lost to them. Tank lost his career and the career of South 13 and also of the other fighters of South 13 side.



Ad blocker interference detected!
Wikia is a free-to-use site that makes money from advertising. We have a modified experience for viewers using ad blockers

Wikia is not accessible if you've made further modifications. Remove the custom ad blocker rule(s) and the page will load as expected.