A powerbomb is Wrestling throw in which an opponent is lifted up (usually so that they are sitting on the wrestler's shoulders) and then slammed back-first down to the mat. The standard powerbomb sees an opponent first placed in a standing headscissors position (bent forward with their head placed between the attacking wrestler's thighs). He is then lifted up on the wrestler's shoulders and slammed down back-first to the mat. A prawn hold is commonly used for a pinning powerbomb.
Powerbombs are sometimes used in
Martial Arts
competitions, when a fighter attempts to slam another fighter who has him trapped in a Triangle Choke such as
Bone
.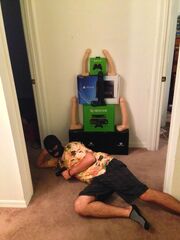 Ad blocker interference detected!
Wikia is a free-to-use site that makes money from advertising. We have a modified experience for viewers using ad blockers

Wikia is not accessible if you've made further modifications. Remove the custom ad blocker rule(s) and the page will load as expected.